The second largest urban area of Punjab, Amritsar is an iconic city that is immersed in rich history and cultural heritage. It is amongst the deeply spiritual cities in India that offer tons of fascinating experiences that will inspire you to head to this place time and time again.
While the south side of Amritsar boasts plenty of magnificent ancient structures to draw the attention of people from national as well as international destinations, the north side of the city is dotted with thousands of hotels, restaurants, and upbeat shopping markets to keep you busy and active all the time. You can also enjoy colorful festivals like Baisakhi, Lohri, Guru Purab, and Holi to have a great time with your near and dear ones.
If you're planning to explore the best of Amritsar with our Amritsar Darshan Packages, the following are the top 4 tourist places that deserve to be explored by everyone, whether you're traveling alone, as a couple, or with family and children. The best sightseeing places in Amritsar are:
Undeniably the main attraction of the city, the Golden Temple or Darbar Sahib or Sri Harmandir Sahib is the crown jewel of Amritsar that invites people from all walks of life to bow their heads in faith with utmost devotion. It's the holiest shrine in the world of the Sikh community that features spectacular architecture with a man-made lake surrounding the temple.
Here you can also find the meenakari work, glass work, and semi-precious stones – all adorning the inner walls of the pilgrimage site to make it look even prettier than ever. With its 2-story structure covered in real gold and the harmonious aura it possesses, the spiritual place stands proudly as an ideal location to find solace and solitude under one roof.
The best thing about the Golden Temple is its daily Langar which attracts a huge crowd of visitors every day. It is basically a free vegetarian meal that is offered to everyone whoever walks into the premises, whether for a short or long duration. Make sure to wear proper clothes and cover your head every time you plan to visit this place as it is a compulsory custom for everyone. In case you forget to bring a scarf from your home, you can borrow it outside the gurdwara for INR 10.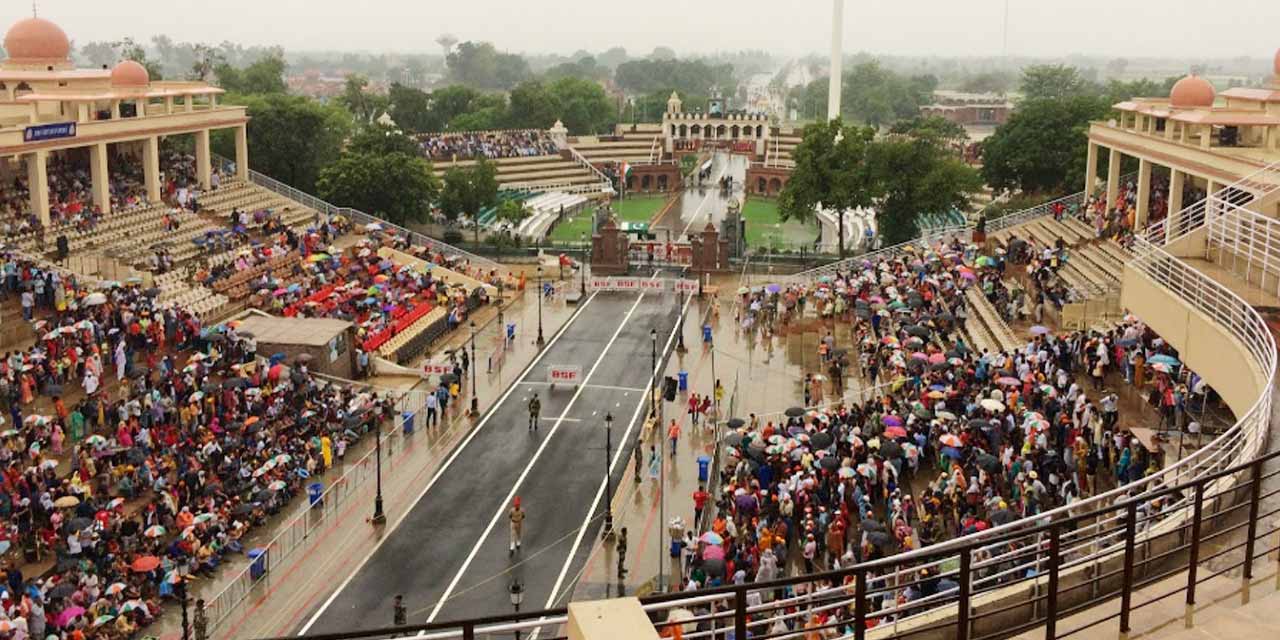 Lying at a distance of nearly 30 km is the Wagah Border that connects India and Pakistan through the road border. Every evening before the sun sets, it hosts a ceremony where the soldiers of both countries meet at the border post to march, parade, and salute each other. During this ceremony, the militaries lower and fold the national flags of their respective countries and close the international gates on a daily basis.
Here you will notice that this ceremony is celebrated with great zest and enthusiasm by people over there. Accompanied by a round of applause, the crowd sings the national anthem song and also dances to the tunes of Bollywood Hindi music to entertain thousands of visitors who come here for a visual treat every day.
The patriotic feel and goosebumps you get here after seeing the complete ceremony is something that cannot be put into words, no matter how hard you try. You'll surely return home with enough memories that are worth cherishing for your entire life. It would be worth noting that this ceremony has been continuing since 1959 and there has been no change until now.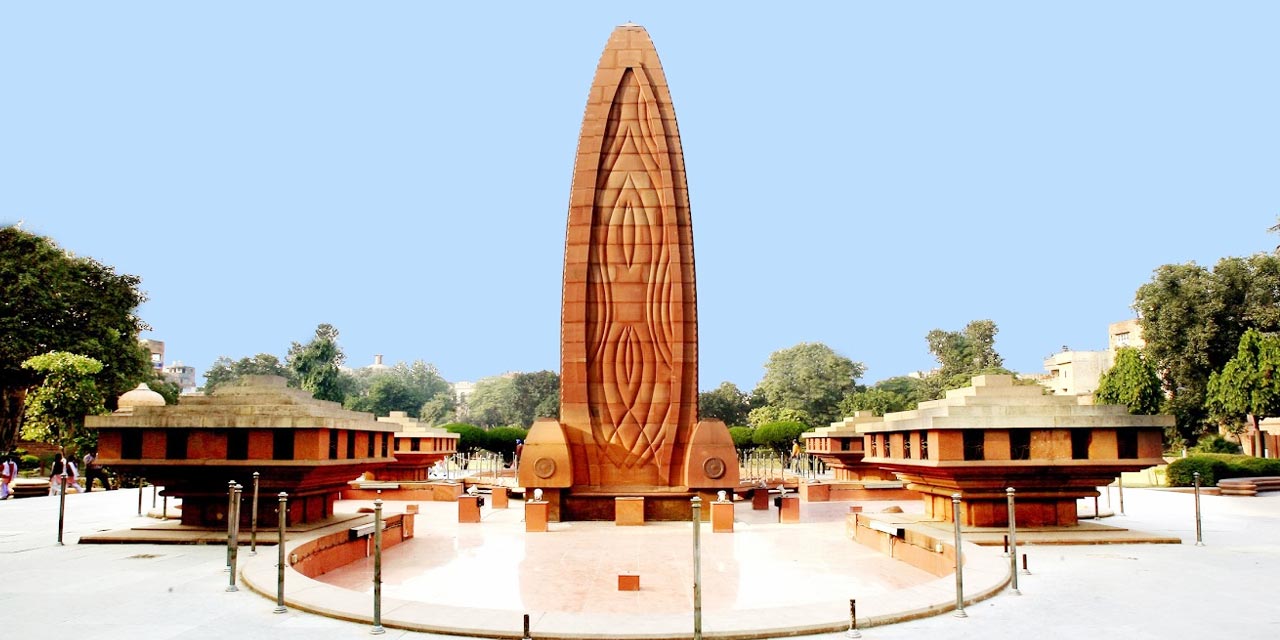 A memorial site that catches everyone's attention on their Amritsar tour, Jallianwala Bagh is a public garden that remains a testimony to innocent people who lost their precious lives in a brutal incident in the year 1919 when the British army was ordered by General Dyer to open fire on peaceful protestors who were gathered there to celebrate the festival of Baisakhi.
It was undoubtedly the black day in Indian history that happened a century ago, but even today, if you go inside its premises, you can see the bullet holes in the wall that were used by hundreds of victims to protect themselves from gunfire. There is also a well within the park into which several people had jumped in panic.
Sprawling over 7 acres of land, Jallianwala Bagh receives a throng of tourists from all parts of the world every day who wish to pay respect to the martyrs. If you visit this place in the evening, you'll get a chance to watch the light and sound show that recreates this heart wreaking scene for people who wish to witness this whole incident with their eyes.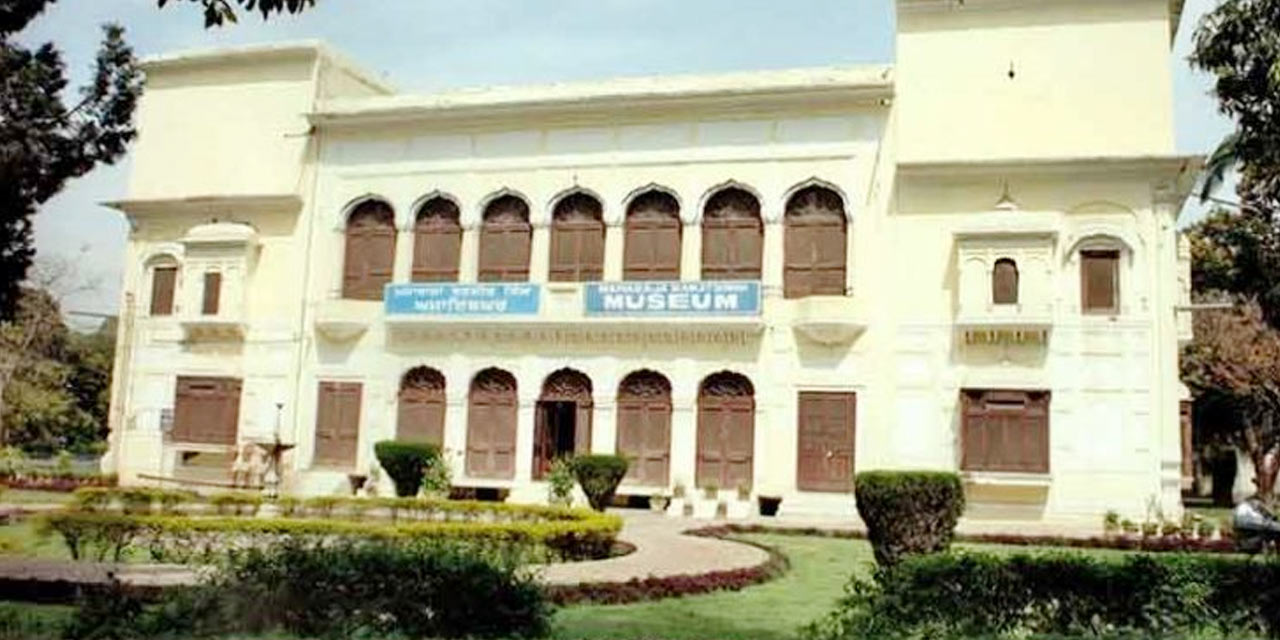 Named after Maharaja Ranjit Singh who was also regarded as the Lion of Punjab, the Maharaja Ranjit Singh Museum is amongst the popular tourist places to visit in Amritsar that presents an idyllic weekend retreat for people who want to know everything about the Sikh culture and religion in detail.
It's a great location to sneak peek into the life of Maharaja through various artifacts and personal items that belonged to him. These include his armor, jewelry, sword, manuscripts, coins, dresses, etc. Here you can also find a fantastic collection of paintings that depicts scenes of the various battles he fought like a warrior.
Please note that the entry fee to visit the Maharaja Ranjit Singh Museum is INR 10 per person for adults and INR 20 per person for children who are 5 or 5 plus. Also, the museum remains closed every Monday, so keep this in mind before making any plans with your near and dear ones.
---
Whether you're in Amritsar for a leisure or business trip, a visit to this city will surely enable you to return home with a bucket full of happy and joyous memories. So, what are you waiting for? Pack your bags and head for an unforgettable experience in this land that boasts a mix of heritage and culture for its visitors.
If time permits, you can plan to add a few more sightseeing places to your itinerary list to enjoy your Amritsar tour to the fullest. Tarn Taran, Gobindgarh Fort, Akal Takht, Mata Lal Devi Temple, Durgiana Temple, Khairuddin Mosque, Sri Ram Tirth Temple, Khalsa College, RamBagh Gardens, and Baba Atal Tower are some of the points of interest that deserve to be seen by everyone. If you're a shopaholic, you can take some time out for Hall Bazaar to experience a heavy dose of retail therapy at reasonable prices.
How to Reach Amritsar?
As a frequently visited tourist destination in India, Amritsar receives lakhs of domestic as well as international travelers via all modes of transportation and this is why it can be easily accessed by people of all age groups the way they want.
However, the most convenient way is via the airport. You can catch a flight to Sri Guru Ram Dass Jee International Airport which is well-served by various flights from the metro cities of India and foreign countries at regular intervals. Outside the airport, book a cab from the list of top car rental companies in Amritsar to experience hassle-free traveling further to your desired location.
Next, enjoy a direct train journey to Amritsar Junction Railway Station that connects Amritsar to Chandigarh, Delhi, Hyderabad, Mumbai, Agra, Kolkata, Ahmedabad, etc through many passenger, intercity, and express trains. From there, you'll find numerous options like local buses and auto-rickshaws that help you roam around the city in your utmost comfort.
Lastly, Amritsar also maintains a good road network with the neighboring regions, making it convenient for people to get to it at pocket-friendly prices. In case you're traveling in an inter-state bus, you can get down at the ISBT Amritsar as it is the main bus stand in the city. Alternatively, choose to self-drive all the way to Amritsar if you like driving by yourself. The choice is yours!