Take some time out from your busy schedule of 9 to 5 life to visit the city of Amritsar and dig deep into its rich culture and heritage. Also referred to as the heart of Punjab, Amritsar is a popular tourist destination that receives about 100,000 visitors daily – all thanks to its breathtaking architecture and spiritual experiences.
It's the most cherished city in India that offers a perfect blend of religious and cultural attractions. While on one side, you get to admire the age-old monuments, the other side of the place introduces you to numerous restaurants, cafes, and an upscale shopping experience that is worth remembering for a lifetime. If you're someone who wants to enjoy Punjabi hospitality, then Amritsar is the place to go.
Below we have mentioned a list of the famous points of interest that you can include on your itinerary list whenever you plan to explore it with our Amritsar local sightseeing tour packages. These are as follows:
Also referred to as Sri Harmandir Sahib, the Golden Temple is undeniably the most significant tourist place to visit in Amritsar. It holds immense religious importance for the Sikh community and symbolizes equality and brotherhood among humans.
Featuring awe-inspiring architecture with a tranquil ambiance, this holy site welcomes everyone, regardless of their caste, to seek spiritual comfort and religious fulfillment. The harmonious aura it possesses with its unique heritage inspires people from different parts of the world to flock to this location time and time again.
It would be worth noting that the beauty of the Golden Temple is further enhanced by the Sarovar, a lake that surrounds it, and you will also observe that many local visitors visit it on an everyday basis to find inner peace. The temple is also renowned for hosting the world's biggest community kitchen, where visitors are welcome to join other guests and relish a complimentary vegetarian meal while sitting on the floor.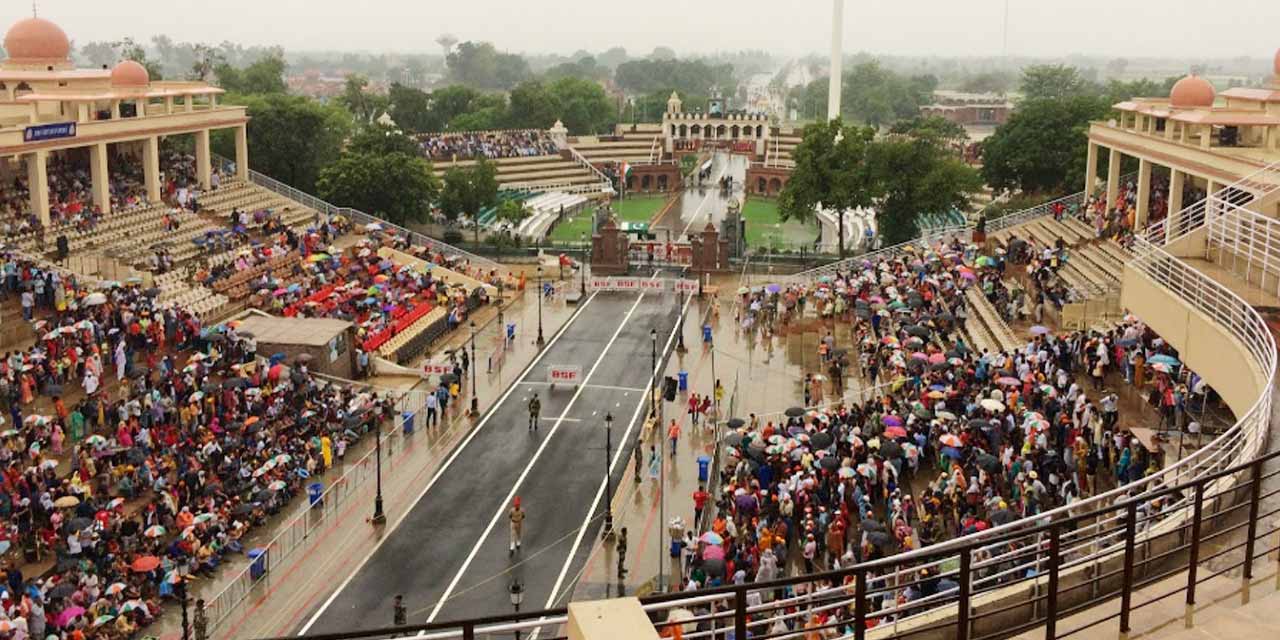 Situated about 31 km west of the heart of the city center lies the Wagah border, which is the boundary between India and Pakistan. Every afternoon at the time of sunset, an impressive border-closing ceremony called the Beating Retreat Ceremony takes place, involving the Indian Border Security Force and Pakistan Rangers' goose-stepping guards.
The ceremony includes lowering and folding the flags and closing the gates at the border, making it another popular sightseeing place to cover as a part of our Amritsar local sightseeing tour packages.
The Wagah border carries a patriotic ambiance, and visitors can witness 6-ft tall Jawans performing the beating retreat. However, it's important to remember that the nation on the other side of the border is not our enemy.
The Beating Retreat Ceremony promotes peace between the two nations, and it is the only road border between India and Pakistan. The lowering of flags ceremony is the main highlight of this place and draws many visitors to this major crossing between India and Pakistan, located close to the Attari Village.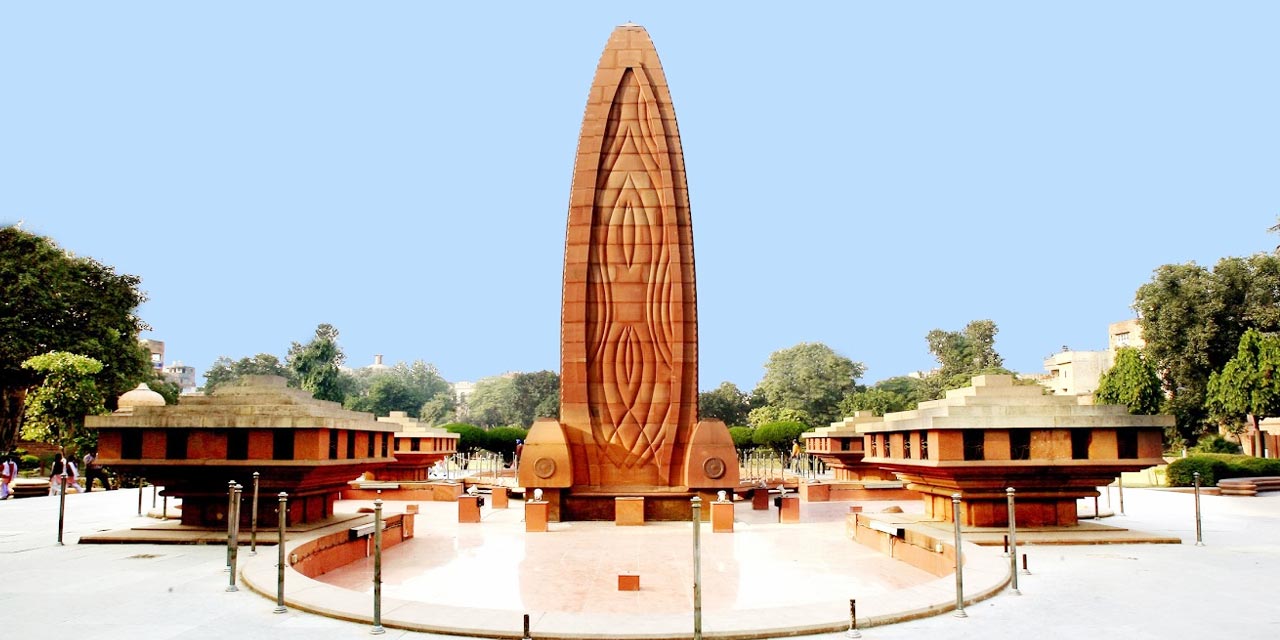 Jallianwala Bagh holds immense historical significance as one of the most important landmarks in India. This memorial site is just a short walk from the Golden Temple. It was the site of the horrific Jallianwala Bagh Massacre that occurred on April 13, 1919.
The brutal incident involved the British army opening fire against a large group of unarmed Indians who were peacefully protesting for the release of imprisoned leaders of the Indian Independence Movement. The massacre resulted in the deaths of hundreds of people and left many injured, an event that still resonates with millions of Indians even after 100 years.
Today, tourists can visit this public garden, which serves as a memorial for the victims. The walls bear the marks of the gunfire and stand as a reminder of the pain and suffering that our ancestors had to endure in their struggle for freedom. Despite the scars of the past, this historical site remains a must-visit for those who are on their Amritsar tour.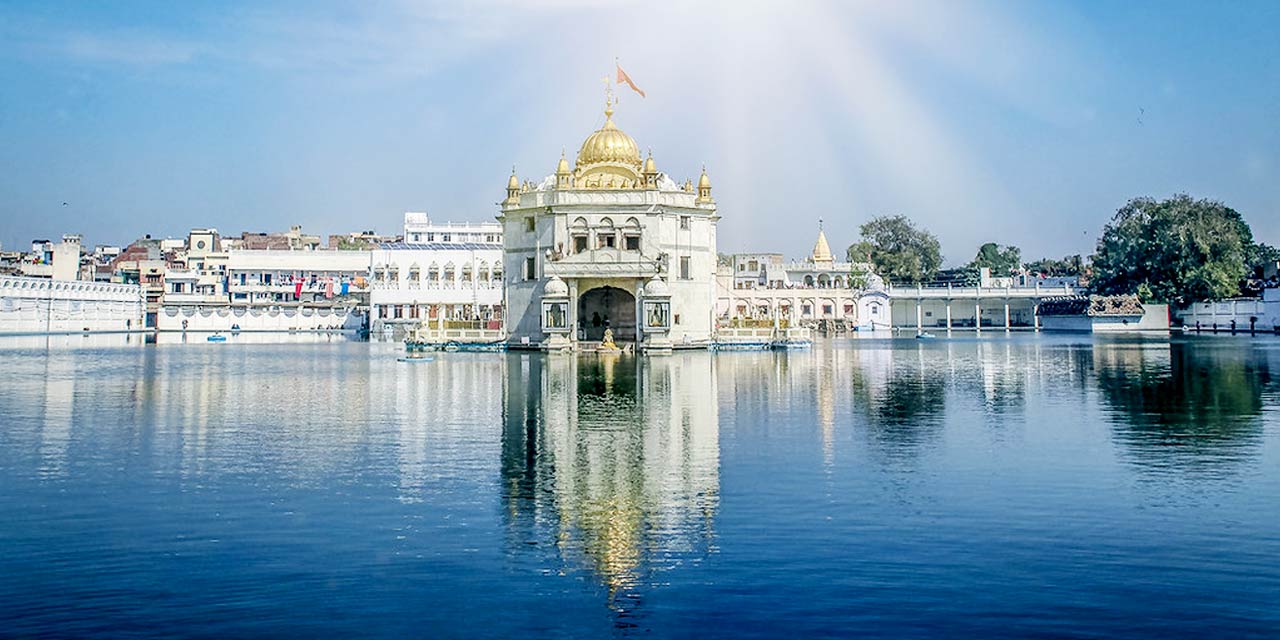 Durgiana Temple, also known as Laxmi Narayan Temple, is a significant Hindu temple located in the Amritsar district of Punjab. Inspired by the Golden Temple's architectural style, the temple's construction was initiated by Guru Harsai Mal Kapoor in 1921.
Like the Golden Temple, the Durgiana Temple is also situated in the middle of a lake, with a bridge providing access to the main temple area. The temple's half-gold, half-marble facade is a sight to behold and gives the temple a unique identity.
Though the temple looks similar to the Golden Temple, it serves a different purpose, being a Hindu religious site. Here devotees pay tribute to the warrior goddess Durga, the wealth goddess Laxmi, and Lord Vishnu. The temple is mostly visited by religious travelers, but even regular tourists can appreciate the stunning inlaid marble and the temple's spiritual atmosphere. Legend has it that Luv-Kush, sons of Lord Rama, met Lord Hanuman here.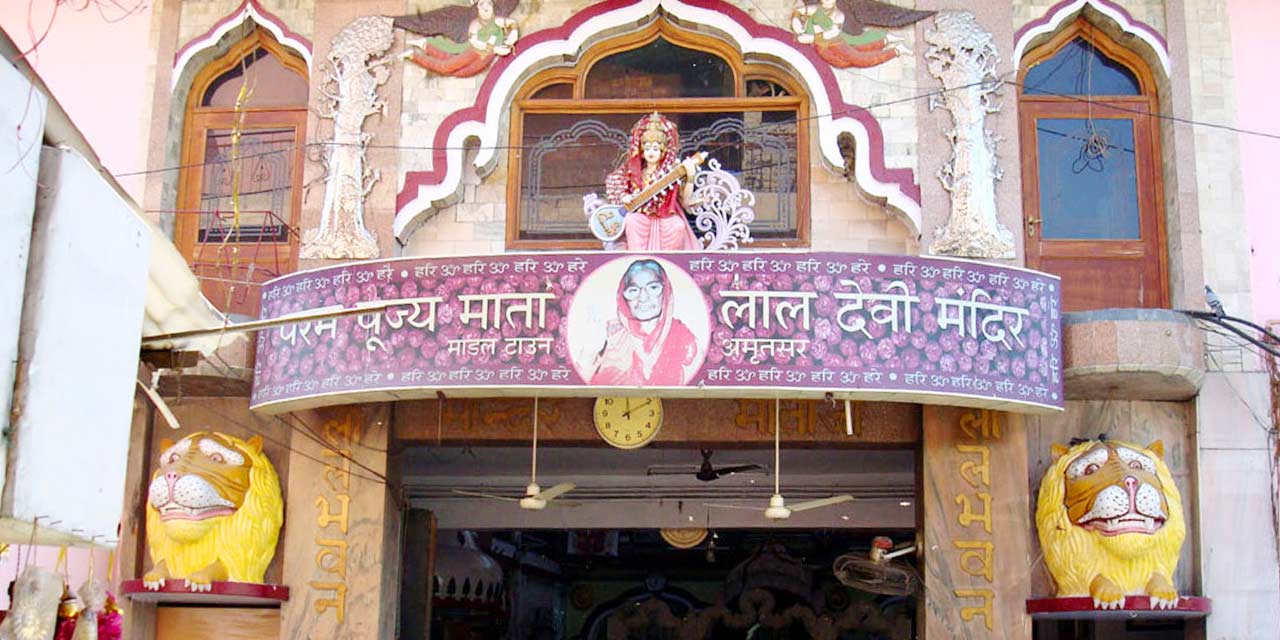 The next tourist attraction that is worthy of your time in Amritsar is the Mata Lal Devi Temple. Known for offering an exciting adventure maze experience, the Mata Lal Devi Temple or Sheesh Mahal is a multi-story temple that serves as a replica of the Vaishno Devi Temple located in Jammu.
Dedicated to the Lal Devi, it is a kind of pilgrimage site that is beautifully adorned with glass frescoes, colorful paintings, and mind-blowing mirror work that enhances its overall look.
A man-made cave is the main attraction of this temple that takes you directly to the Goddess shrine through crawling or bowing completely. There is a belief that infertile women make sure to head to this place at least once to seek blessings from the presiding deity as this temple is supposed to possess fertility-improving powers.
Please note that the Mata Lal Devi Temple remains open all day long from 5:00 AM in the morning to 11:00 PM in the night and the recommended exploration time is 1-2 hours. You need not pay any fee to enter its premises. Also, there are good arrangements for keeping luggage, footwear, drinking water, and washing facilities.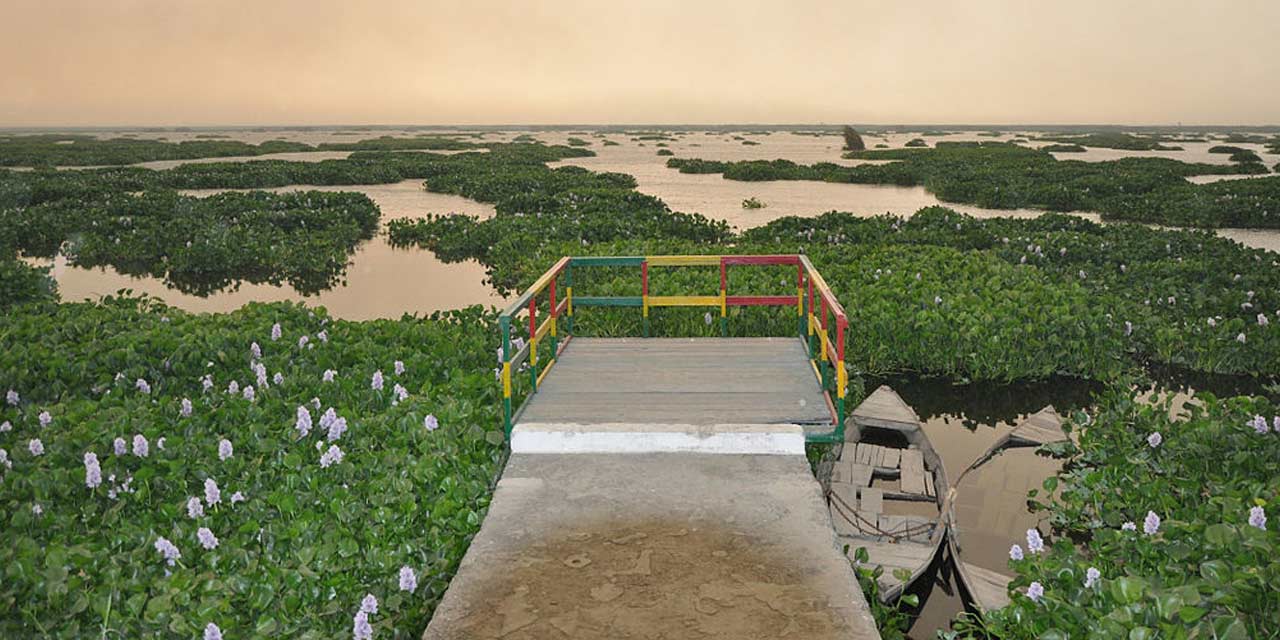 Your visit to Amritsar would not be complete without a trip to the Harike Wetland, located in the Tarn Taran district of Punjab which is approximately 60 km away from the Amritsar junction. It is considered as one of the largest man-made wetlands situated on the north side of the country, covering an area of over 41 square km.
The striking feature of the Harike Wetland is its Harike Lake, which provides a relaxing getaway to its visitors by giving them a chance to unwind and attain peace of mind in utmost tranquility. Here you can also spot a diverse range of bird species in the bird sanctuary that serves as an ideal place for bird watchers as well.
The best time to visit this tourist location would be during the winter season i.e., from October to February. Why? Because, at first, this is the time when several migratory birds consider visiting this sanctuary in large numbers, which is no less than a treat to watch, and secondly, the weather also remains pleasant during the day, making it convenient for you to roam around.
---
As you explore the lively and heartfelt city of Amritsar, you will come across a plethora of captivating experiences that are sure to enamor you. From witnessing its rich history to savoring the delicious Punjabi cuisine, Amritsar is an ideal destination to take a break from your daily routine and refresh yourself.
Along with the above-mentioned places, there are many other exciting places to visit that can uplift your mood. Visiting any of these places in Amritsar is guaranteed to be a memorable experience. Get in touch with our team of professionals for any help!
We at Amritsar Tourism, a division of Holidays DNA, present Amritsar local sightseeing tour packages along with Amritsar Darshan Packages and Amritsar City Tour Packages to cater to everyone's varied holiday needs. Depending on your vacation style, you can go ahead with the one that suits you the most. Other than that, we also offer all-inclusive packages so that you can enjoy your trip at pocket-friendly prices. Please fill out the Contact Us form to know more about our offerings!
How to Reach Amritsar?
Fly to Sri Guru Ram Dass Jee International Airport to cover the maximum distance to Amritsar in the least possible time. The Amritsar Airport receives many domestic and international flights from different parts of the world.
The next option is via train. You can enjoy a smooth and comfortable railway journey to Amritsar Junction for hassle-free traveling. Outside the station, there are several modes of local transportation available for the ease of people. Alternatively, book a direct taxi from the list of top car rental companies in Amritsar to roam within the city whenever your mind pleases.
Lastly, catch a private or state-owned bus to Amritsar to enjoy traveling to this city at pocket-friendly prices. Amritsar has great inter-state connectivity as well. This simply means that you can travel from any location in India at your utmost comfort.